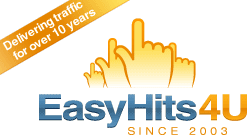 Hello everyone! Today I am reviewing EasyHits4u.com,
one of the best traffic exchanges
/
THE BEST traffic exchange
on the internet
EasyHits4U is a Quick and Easy
Traffic Exchange
that delivers free
website traffic
,
website advertising
, and
free link submissions
...
EasyHits4U delivers
fast
and FREE
website traffic
to any of your websites, they also provide Banner impressions, and Text Ad impressions. For members and advertisers seeking
how to get a lot of traffic to your website
EasyHits4u is your answer. You can even earn cash along the way!
Before we start on the Long Review, If you want to quickly skip to the site, here are some quick steps...
For surfers:
1. Signup at
EasyHits4U.com
2. Confirm your e-mail
3. Submit websites that you want traffic for
4. Start surfing
5. *You got traffic!*
For money makers:
1. Signup at
EasyHits4U.com
2. Confirm your e-mail
3. Surf (1,000 pages = $0.30c) (Optional)
4. Refer members, 10c each member that surfs 100 pages or more
5. When you hit $3 cashout via AlertPay or PayPal!
The main goal of EH4U is to give you quality and free traffic...There are 2 types of exchanges but both are manual, there are no auto-surfers in EA4U to prevent bad traffic....
1. 2:1 Exchange, 15 seconds per rotation.
2. 1:1 Exchange, 20 seconds per rotation.
Along with the credits per exchange you receive bonuses...for every 25 pages you surf you receive a bonus, the more pages you surf the higher the bonus...
e.g.
Surf 25 pages and you will receive 25 free banner impressions...
Surf 250 pages and you will receive 1,000 free banner impressions...
These bonuses reset every 24hrs.
Unfortunately you cannot convert traffic exchange credits, banner, or text impressions into cash....Though there is one way to make cash at EH4U BUT you do earn $0.30 for every 1,000 pages surfed!
For earners, they provide a great referral system...
Features as follows:
Get free credits from your referrals on 5 levels: 10% of credits earned by your 1st level referrals, 5% of credits - 2nd level, 3% - 3rd level, 2% - 4th level, 1% - 5th level.

If you upgrade to Premium, you'll receive free credits from your referrals on 6 levels (15% - 10% - 5% - 3% -2 % - 1%)
We pay you $0.10 for every person you refer that surfs 100 or more sites!
You will earn up to 40% commissions from all purchases of our Easy Splash Rotator and Easy Rotator tools made by your first level referrals (10% as a free member, 20% as a Premium member, 30% as a paid member of the Easy Splash Builder & Easy Rotator, 40% as a Premium member and as a paid member of the Easy Splash Builder and Easy Rotator tools at the same time)
Also you can motivate your downline to surf more, promote other programs or encourage them to sign up on your own website(s) and under your affiliate links from the Contact Referrals page.
As you can see, they have THE BEST referral system for a traffic exchange...But that's not all they have...They still have loads of features yet to be pointed out...
EasyHits4U has a Reciprocal Links Directory Submission feature which enables you to post links into their link directory to increase your websites page rank on search engines such as google, bing, and yahoo (the 3 main search enginges)...So not only does your website get traffic, but your websites GETS NOTICED. Which is GREAT for new websites seeking to build up their rank!
EasyHits4U also provides an Articles section...the articles section allows you to write an article about....Pretty much anything!! You can use this to promote your websites, inform members on another money making methods (THIS IS GREAT if you would like to teach people about GPT sites, or HYIP sites!) or just write about how your day was! It is another useful feature that they have created, and again makes your website noticeable in the major search engines IF you use it correctly!
Can you get paid?
Yes you can!! EasyHits4U provides a $3 minimum payment and pays VIA PayPal and AlertPay. In a nutshell, you can earn cash by:
Referring others
and surfing, the only way to earn by surfing is surfing 1,000 pages, which makes you $0.30
ANOTHER feature of EA4U is the Profile section. You can view each others profile and "connect" with others (sort of like twitter or facebook), you can share your Facebook profile, Twitter page, Youtube channel, Myspace page, linked in page, and Skype IM with others, getting you more likes/friends/subscribers!! You can also add your own avatar, and write a bit about your self!!
The last feature, and one the most IMPORTANT features is upgrades. some benefits include:
1:1 for a 15 second exchange instead of 1:2 for 15 seconds.
Bonus credits, banner imp's and text ad imp's
1:1 conversion rate for geo targeted ads instead of 1:2
6 levels of ref. levels instead of 5 (15% - 10% - 5% - 3% - 2% - 1%)
UNLIMITED active sites instead of only 15
1:35 conversion of converting credits --> banner imp's instead of 1:25
1:50 conversion of converting credits --> text imp's instead of 1:30
Random Referrals!! (WE ALL LOVE THOSE!!)
Hide banners in while you are surfing!
2 rotators instead of 1!
20 sites in each rotators instead of 10!
20% commissions of purchased products from East splash Builder and Easy Rotator, instead of 10%!

Unlike other TE's you can really benefit from the upgrades at EasyHits4u.
If you would like to buy impressions/credits instead of earning them, the purchase section is also available!! 1,000 hits for only $5.95!
Interested in joining

EasyHits4U

, the BEST traffic exchange, and earning free cash and traffic to your website today?
Click one of the following banners!!